Repair Vermiculite Fireproofing
Reinstate Vermiculite Fireproofing
Most of structural steel members for building will be coated with vermiculite  cement for fire protection the building structure from fire. It is commonly see the vermiculite fireproofing coating at commercial building, factory, shops and even in some of residential building.
The life span for the vermiculite fireproofing can be long when it is not being damaged, disturbed or impact by force etc.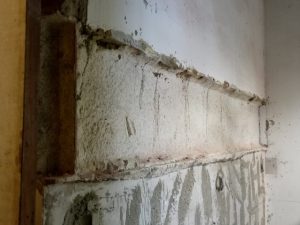 Most of common damages to the Vermiculite Fireproofing
Damages by M& E services installation : It is quite common when M& E services are required to be installed after the completion of fireproofing, the hanger rods, conduits and support that needed to hang from the steel structure, the contractors are hacked or removed the protection cement and install the clips or bolts. The results will cause the oxidation of the steel surface over the time, and the scaling of the steel structure will result the debond of vermiculite coating and start falling off.
Damage by Water Seepage : Any water sources and water leaking to the vermiculite surface may affect the integrity of the cement. Especially the internal grade vermiculite cement is not able to withstand the excessive water exposure. For external grade vermiculite cement, it may subject to weather but it can't withstand the prolongation of the water seepage issue where the steel members may be oxidations after contact with water and results scaling and debond the fireproofing coating.
Damage by Impact or force :  Damage by force can be accidentally hit, drops something on the surface of coating and results crack, chip and falling off the coating.  In some cases, during the renovation, the fixtures and cladding over the steel members may results some force impact and results of damage.
Repair the Damage Vermiculite Fireproofing Cement
If the existing fireproofing coating is found damages, it is advisable to repair the damage area immediate to prevent become severity and the protection of the structure building being compromised. The building owners are responsible to maintain and ensure building structure integrity is remained protected and repair any damaged fireproofing protection.
In some cases during the reinstatement work of the tenants unit in commercial building, the tenant is required to reinstatement the damages of the fireproofing cement with approved and correct type of SCDF approved vermiculite cement. The contractor should provide necessary material COC ( certificate of compliance) for the material used. In the event of after reinstatement work, if the structure members are damaged by the renovation work, the reinstatement contractor shall inform the tenant and landlord immediately and engaged the experience fireproofing contractor to rectified.
The repair method and thickness of the damaged area shall be properly treated and repair.
Need a survey and repair your damaged vermiculite fireproofing? Contact and find out more 9reno.com
Find out other type of fireproofing material.
Repair Vermiculite Fireproofing