When your lease for your office is end, you may need to return the premises back to the landlord.
Our recent reinstatement work for our client is return the office cum warehouse which is about area of 2000 sf at JTC premises or currently manage by MapleTree  Industrial  at Kallang Way area.
Extend of Reinstatement work
The existing unit is converted into two part, front side is renovated as a office with meeting room and the other side is partition up for storage and warehouse purposes.
Basically, the hacking and removal work is straight forward as all the temporary partition, doors, M&E services that installed for to be terminated and removed. The major work involved for the unit is to remove the existing floor epoxy coating and reinstate into the original concrete finish.
As the existing floor finish is coated with epoxy paint, we have to arrange to grinding and sanding off the existing floor where it is dust extensive and restricted to work on after office hour as it may affect the next door. Machine and intensive labour is arranged and rush up over night to delivery the work. In addition, the existing floor may be damaged after used by the client, the concrete floor may need to repair the crack line, damaged concrete etc.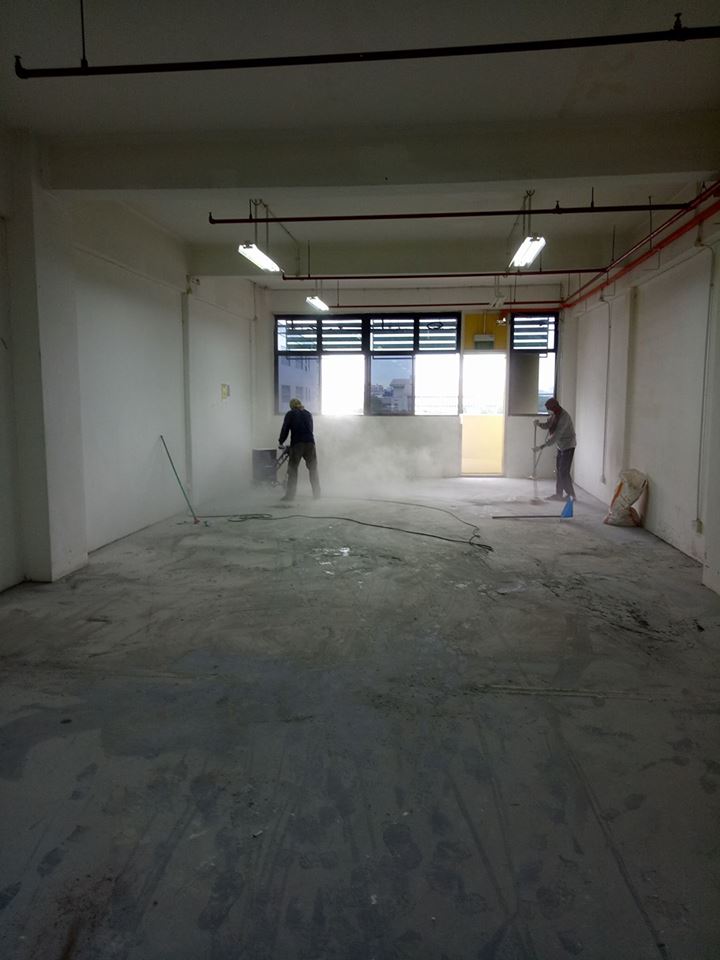 The basic reinstatement work such as repainting, reinstate the locksets, fire sprinkles are as required to most of making good existing reuqiremnt.
Need Reinstatement work for your Office/ Shop/ outlet?
We welcome all the enquiry for reinstatement work require with no obligation quote and site visit. We are able to provide one stop reinstatement work, from hacking and dismantling, movers services, construction work or even only painting work. Talk to us today.

To find other type of reinstatement work, please read and follow the link below:
JTC Office Reinstatement Work