Renovation Of Bathroom
There is no doubt the most usage space in our home, the bathroom is one of them.
Most of homeowner has been inspired by a lot of show room and hotel style bathroom and wish you may have a one and enjoy it daily.
This is always a challenge for a lot of homeowner how to renovate the bathroom, type of tile finishes to be used and design. The list can go long and many aspect to be considered when start your bathroom renovation or improvement.
In today topic, let's discuss on bathroom finishes, the elegant look marble bathroom.
The marble stone is one of expensive stone and finishes when you purchase in Singapore. It look grand, luxurious and beauty looking, however, this natural stone is porous, easily adsorb stain and break or crack for thin slab.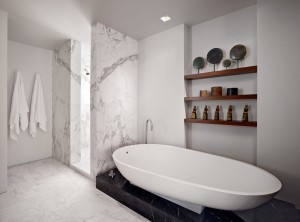 If you are preferred and selected the marble stone for wall or floor in your bathroom, this is advised the marble surface is to be applied sealer and impregnation coating to prolong the life span. Choose the thickness that more than 20 mm thk and prepare to maintain your bathroom clean and dry most of time. This is to avoid the soap stain will not stay on the surface and absorb over the time.
Periodically polish and apply sealer or repair the crack if found over the time. Marble filler and polishing can be done by experience tiler and stone specialist.
Any easy way out to get the same marble look and yet reduce the headache of maintenance the surface?
You may consider the marble look-alike porcelain stoneware tiles, homogeneous tile,  or even quart stone. Despite the advantage  of low maintenance, the cost of the tile will definitely cheaper when compare with marble stone, or slab cut marble.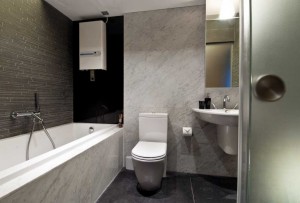 If your would like to talk to a builder that experience in renovation bathroom, do drop us a line.
Renovation Of Bathroom