Getting new BTO ( Build to order)  HDB key is most exited by the home owner.
However, there are still many things need to be fixed up prior the move in and dress up the house. Although the condition of the unit is move in condition provided you are not choose to opt out certain finishes like flooring and doors.
Most of  minor renovation work carry out by home owner to BTO HDB flat :
Fixing up curtain track and curtain.
Installation of gypsum board false ceiling or light pelmet
Installation of light fittings and ceiling fan
Construct TV console and built in fixture
Laying of Vinyl flooring
Etc.
Do you need to repainting your BTO new Flat ?
If you are carry out some of the minor renovation, this is inevitable that you may need to consider to repaint some of wall or ceiling when there is minor work being carried out.
In some cases, the protection before carry out the work is not able to 100 % to prevent damages, scratches, spill over of stain, holes by fixing, changes of design etc.
You can consider to change some colour of the wall, make some colour instead of originally white paint.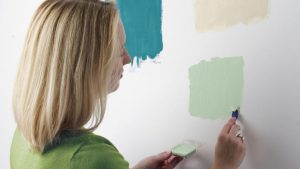 Type of Colour or Paint to Choose
Do take note to choose interior paint instead of exterior paint . basically there are two main paint brand commonly used in Singapore.
ICI Dulux Interior Paint Option for wall & ceiling :

Dulux Water base sealer ( for new wall without painted before )
Dulex Wash & Wear
Dulex Pentalite ( Most commonly range used )
Dulex Ambiance All ( Premium type)
Dulex Mouldguard ( for high moisture area, eg. toilet or kitchen ceiling)
Nippon Interior Paint Option for wall & ceiling :

Nippon Water base sealer ( for new wall without painted before )
Nippon Matex ( Normal type, commonly use to paint the ceiling only)
Nippon Vinelex 5000 ( Most commonly range used )
Nippon Easy Wash  ( Classic Type)
Nippon Odourless All in One (Ordourless type)
Nippon Ordourless Easywash  ( Premium type)
Talk to your painter to understand which type of paint is suit your needs and budget.
For metal and wood surface, you may need to consider to use enamel paint for wood and steel paint including the solvent base primer.
What is my existing HDB paint colour ?
If you are just got your key for your HDB BTO flat, you may head down to the nearest contractor office to get the colour code of the type of paint and colour code used for your internal unit or external unit. This is just in case you need it to do touch up or when you damaged existing wall.
If you are planing to repaint the whole house, you may just save your time to visit the office and just choose a new colour instead.
Need a Painter ?
Call us for discuss further.

BTO Painting